Five Strange-But-True Disasters
Disasters have a unique way of capturing our attention. The Titanic, the Hindenburg, the Chicago Fire, the Eruption of Mount Vesuvius and destruction of Pompeii- they are all well known and hold a strong place in our memory.  On Timelines.com, there are over 500 disasters chronicled. When you glance through this list, some jump out as being highly unusual and downright weird. Here are five of the strangest disasters,  in chronological order.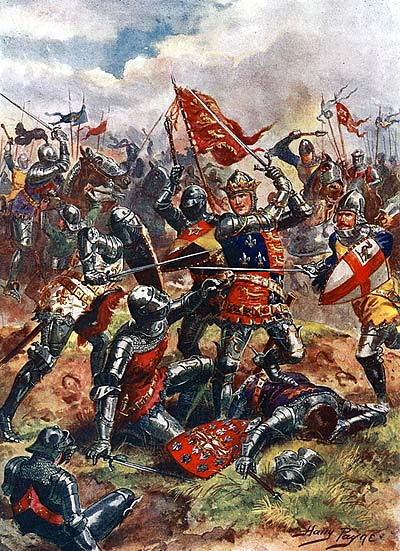 Twenty-three years into the Hundred Years' War, King Edward III of England had invaded France and was sacking the suburbs of Paris.  On April 13, while camped outside of Chartres (a town southwest of Paris), Edward and his forces were caught outside in a massive hail and lightning storm.  The storm and the ensuing panic killed over 1,000 English soldiers.  Edward took this as a sign of divine displeasure, and as a result agreed to relinquish his claim to the French throne in exchange for one third of France.  Not such a bad deal after all.
On October 17, 1814 at the Meux and Co. Brewery, a gigantic vat of beer blew open and caused other vats to rupture, resulting in 1.5 million liters to gush onto Tottenham Court Road and New Oxford Street in London.  The flood destroyed two homes, knocked down a wall at a nearby pub and trapped poor families who lived in the basements of tenement houses in the neighborhood.  Eight people died that day from drowning and one person died the next from alcohol poisoning.  Read the account of the disaster in the London Times from 1814.
On January 15, 1919 in the North End of Boston, a 50-foot high tank containing 2.3 million gallons of molasses burst at the Purity Distilling Company, producing an 8 – 15 ft high wave that rushed through the streets at 35 mph.  The molasses wave was so strong that it knocked down the girders of nearby elevated train tracks and lifted a train off of its track.  Twenty-one people were killed and 150 people injured.  It was the front page headline story in the now defunct Boston Post newspaper.  Legend has it that on hot summer days in Boston's North End you can still smell molasses .
Yes, you read this title correctly – the plane crashed with a 15-year old at the controls.  The plane's flight and data recorders revealed that the pilot's 15-year old son was at the controls and accidentally disabled the auto-pilot controls of the plane.  This caused the airplane to go into a steep bank and then an uncontrollable dive.  Before the pilots could figure out that the autopilot control had been disabled (there was no audible alarm to signal this), the plane slammed into a Siberian hillside.  The crash killed all 75 people on board.  As Rain Man said, "Only fly Qantas."
On May 13, 2000, over 100 tons of fireworks were detonated by a fire and two explosions at the S.E. Fireworks warehouse in Enschede, The Netherlands.  The explosion killed 22 people, injured 947 and left 1,250 people homeless; 400 apartments were leveled; 15 streets incinerated; and 1,500 homes were damaged.  People felt the blast up to 30 km away.  If you want to get a feel for what this was like, watch this video.  It was shot on the scene as the explosion was happening.  Be sure to watch it all the way through- it is unreal.
Do you know of any disasters not covered on our Disasters Timeline?  Let us know or just add it directly.